Our Services
As a country products representative, we provide the following services to our customers:
Application Engineering
Product Selection
System Design & Drafting
Training / Orientation
Installation, Testing & Commissioning
Coordination and Logistical Support
Roughing-in Works
To Preventive Maintenance
We are also capable of providing the following services to our customers:
Integration Engineering
Consulting
Engineering Design
Design Management
Specification Writing
Bid Management and Contractor Selection
MZ IWORX MARKETING offers these services for various Building Systems Electronics and Auxiliaries:
BGM/PA - Background Music/Public Address Systems (BIAMP, TOA)
VAS - Voice Alarm System (BIAMP, TOA)
Security Window Intercom (AIPHONE)
Synchronized Master Clock Systems (BODET)
Customer Flow Management - Queuing System (Q-MATIC)
FDAS - Fire Detection and Alarm Systems (ESSER, HORING LIH)
Aerosol Fire Extinguishing Generators & System
Audio/Visual Systems
Sound System
CCTV - Closed Circuit Televisions System
Access Control Systems
Burglar Alarm / Security Systems
CMS - Central Monitoring Station
Building Automation Systems
Structured Cabling Systems
IT Networks
Time and Attendance w/ Payroll and 201 System
PABX
MZ IWORX MARKETING provides solution to a diverse type of customers:
High-rise Office Buildings
Airports
Embassy
Railway Stations
Underground Railways
Halls
Schools
Department Stores
Boutique
Athletic Stadiums and Gymnasiums
Hospitals
Guest houses and Hotels
Function Rooms
Theatres and Cinemas
Convention Centers
Amusement Parks
Restaurants
Discotheques
BPOs & Call Centers
Data Centers
Media and Broadcast
Shopping Malls
Semiconductor Plants
Manufacturing Facilities
Medical Facilities
Government Offices
Car Park Centers
Food Services
Products and Systems for Customer Flow Management
Q-Matic invented Customer Flow Management (CFM) and are the world's leading practitioners of it today. Customer Flow Management is the process of managing customer flow and experience from their initial contact with you to final service delivery.
The CFM Process helps organisations increase productivity and profitability whilst improving customer and staff experiences and the data and insights we generate drive further operational improvements. We are active in 110 countries and every year 1.7 billion users pass through one of our 40,000 installations worldwide in banks, retail outlets, healthcare institutions, and the public sector.
More than 25 years experience With more than 25 years experience in the application of CFM Q-Matic can support our customers through the whole process of analysing current customer flows, identifying opportunities for improvement, creating solutions and leading change management programmes in your organisation.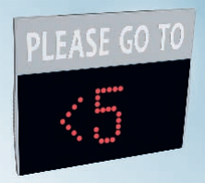 Q-MATIC DIRECT
Wireless linear queue system. Linear queue systems can handle high customer flows when all workstations offer the same services and the transaction time is short. A voice unit can be added for even greater impact.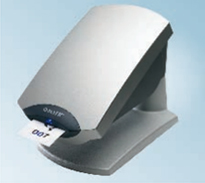 Q-MATIC NOVA
Ticket system for offices with limited space.
Q-MATIC Nova is a neat solution for small outlets and offices with limited space. Designed for easy installation, easy transporting and easy handling.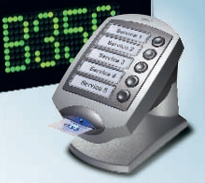 Q-MATIC SOLO
Stand-alone Customer Flow Management system.
An advanced easy-to-handle system for multiple categories and workstations. The system has a powerful, built-in processor and works as a stand-alone unit.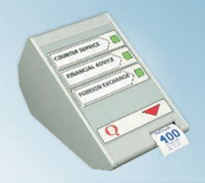 Q-MATIC BP2884
Silent printer for ticket dispensing and can be connected to Q-WIN systems. With the Q-MATIC BP2884 you can print tickets with different messages & logos, waiting time information and inform customers about the services available.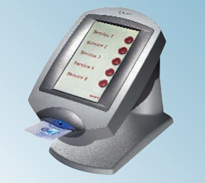 Q-MATIC TP3115
A network printer for Q-WIN and Q-MATIC Solo systems. The printer has a 7-inch colour LCD touchscreen and a built-in web browser that makes it possible to display HTML pages. These pages can be used as ticket buttons as well as presenting info.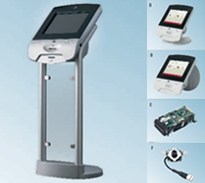 Q-MATIC Vision
A ticket kiosk for Q-WIN systems. It can be used to communicate with visitors to improve both the service level and effectiveness. The included ticket printer is a network printer that can print tickets in any language. Has a built-in web browser and can show all kinds of information.
Esser - Fire Alarm Systems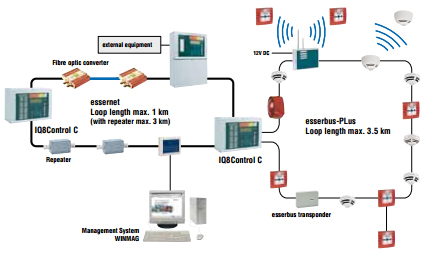 ESSER offers you state-of-the-art, made-to-measure, comprehensive fire protection concepts and voice alarm systems for a wide range of applications and buildings.
Expertise and the enthusiasm for innovation coupled with a consistent strategy of market and customer orientation have characterized the successful development of this traditional brand for more than a quarter of a century. In order to retain our technological and market edge in the future we take changing market needs and innovative technological approaches into consideration when developing new products.
This strategy enables us to strengthen the global reputation we have gained through our quality products, convincing system solutions, international certifications and sophisticated objects of reference.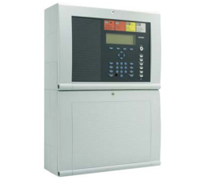 IQ8Control M
Latest processor technology. Permissible wire lenght for esserbus up to 3,500 m. Graphically supported powerful programming tool. Innovative alarm signalling through the new alarm generation IQ8Quad. Supports IQ8Wireless RF technology. Modular device structure.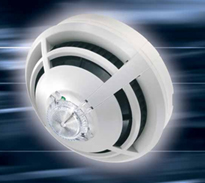 Automatic Detectors
Automatic intelligent fire detectors with high reliability, used for premises and items of property with medium and high concentration of valuable assets. Detector series IQ8Quad features, system advantages Designed for optimal operation on System 8000.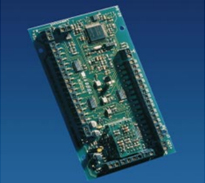 Esserbus transponder w/ 32 LEDs
Outputs is an intelligent problem solver. Light - emitting diodes, such as those in a remote indicator panel, previously had to be activated directly through the fire alarm control panel, but the esserbus transponder with 32 LEDs carries out its task either decentrally or directly in the remote.
TOA - AUDIO MANAGEMENT SYSTEM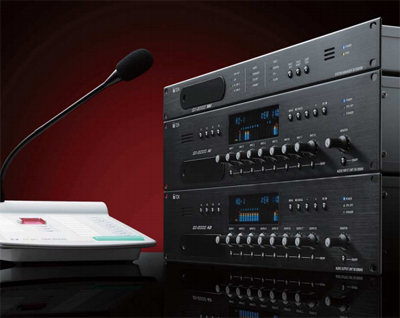 Introducing a scalable new system for configuring versatile and highly effective PA applications. The system features new matrixing capabilities, so a single system can have its components distributed in different locations under centralized control. Ideal for large scale installations ranging over multiple buildings as well as local systems, the versatile SX-2000 Series is particularly well-suited for airports and railway stations, factories, shopping malls and large offices. The system's versatility is ensured by such features as a dual power source and redundant backups for fail-safe operation, making it a cost-effective solution for virtually any installation, and without long lead times or the expense of a custom system. A fireman's microphone feature is also included, for enhanced effectiveness in an emergency. SX-2000 Series components enable creation of an ideal system for all sorts of application requirements.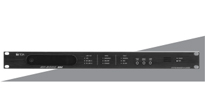 SX-2000SM-System Manager
Can be used in combination with an optional audio input unit, audio output unit, and remote microphone of the SX-2000 Series to make up a complete matrix system and can perform audio signal routing and priority control for the entire system. The SX-2000SM itself is equipped with 8 control inputs, 8 control outputs, failure status outputs, failure data inputs/switches, access indicators mode indicators.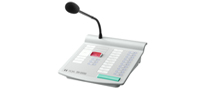 RM-200S-Remote Microphone
The RM-200S is a remote microphone designed for the Matrix System. It is equipped with 13 function switches that can be used to select individual zones or zone groups a covered switch and corresponding indicators. The optional RM-210 Remote Microphone Extension permits switches and indications to be expanded in 10-piece units.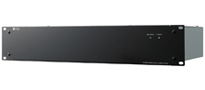 VP-2064 (60 W × 4)
The VP-2064 Power Amplifier features a 60 W-by-4 channels configuration, and uses the VP-200VX Power Amplifier Module per channel. Power Source 28 V DC (operating range: 20 - 40 V DC) M4 screw terminal, distance between barriers: 12 mm. Current Consumption 4.8 A in total (EN60065). Rated Output Power 60 W × 4 (at min. resistive and max. capasitive load)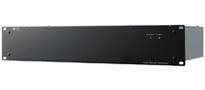 VP-2122 (120 W × 2)
The VP-2122 Power Amplifier features a 120 W-by-2 channels configuration, and uses the VP-200VX Power Amplifier Module per channel. Power Source 28 V DC (operating range: 20 - 40 V DC) M4 screw terminal, distance between barriers: 12 mm. Current Consumption 4.8 A in total (EN60065). Rated Output Power 120 W × 2 (at min. resistive and max. capasitive load).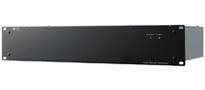 VP-2241 (240 W × 1)
The VP-2241 Power Amplifier features a 240 W-by-1 channels configuration, and uses the VP-200VX Power Amplifier Module per channel. Power Source 28 V DC (operating range: 20 - 40 V DC) M4 screw terminal, distance between barriers: 12 mm. Current Consumption 4.8 A (EN60065). Rated Output Power 240 W (at min. resistive and max. capasitive load).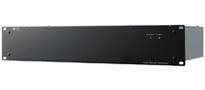 VP-2421 (420W × 1)
The VP-2421 Power Amplifier features a 420 W-by-1 channels configuration, and uses the VP-200VX Power Amplifier Module per channel.Power Source 28 V DC (operating range: 20 - 40 V DC) M4 screw terminal, distance between barriers: 12 mm. Current Consumption 7.6 A (EN60065). Rated Output Power 420 W (at min. resistive and max. capasitive load).
Bodet - Clock systems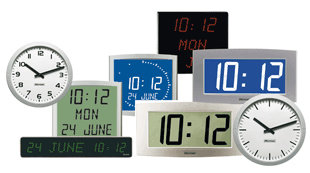 Leader in time display, Bodet provides synchronised clock solutions to industries such as transport, banking or manufacturing where accurate time is a key and critical information.
To fulfill your requirements, Bodet has developed a wide range of clocks, including calendar and time zone clocks, combining design and technology. We also offer a range of large digital clocks for outdoor use.
For refurbishment or in an existing building, we recommend our new state-of-the art wireless clock system. For a new building, according to your application, a wired clock system or a wireless clock system would fit your requirements. A clock system uses a master clock to drive and synchronise the slave clocks, keeping precise and accurate time to all clocks and managing winter/summer changeover automatically.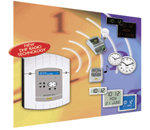 Sigma - Modular master
High quality master clocks & accurate timing solutions for clocks, computer networks & other devices.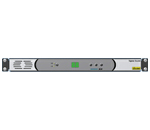 Sigma Sound Module
Allows to broadcast audio messages or melodies through an existing PA system.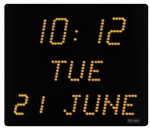 Bodet Style 7 date
Display: hour minute date Multilangual calendar Day of the week, week number or day number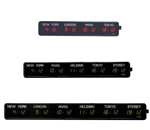 Multi time zone display
Display: hour minute Choice of city text Local times programmed in factory and modifiable.
Biamp's revolutionary Audia

Digital Audio Platform seamlessly integrates powerful hardware and intelligent software for unheard of design and networking potential.
In fact, Biamp is one of the first manufacturers to make use of CobraNet® by integrating it into our Audia DSPs, pioneering its use in high profile installations.
A single Audia unit can provide the power of an entire rack of processors at your fingertips. Imagine what you can do with multiple Audia units, configured and networked to conquer the most challenging environments.

AudiaFLEX - Digital Audio Platform
The next generation in Audia's Digital Audio Platform, AudiaFLEX gives you unprecedented control of your system with the ultimate flexibility in design. Choose any configuration of input (IP-2) and output (OP-2e) pairs to create the system you need without compromises.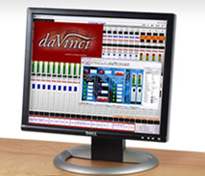 daVinci
daVinci graphic control screen software makes creating an end-user control interface brilliantly simple.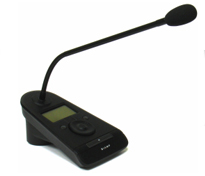 Networked Paging Station-1
A microphone console using a single cable to carry audio, control, & power, w/ an innovative user-interface.
AMX hardware and software solutions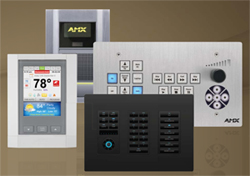 AMX hardware and software solutions simplify the way people interact with technology. With the increasing number of technologies and operating platforms at work and home, AMX solves the complexity of managing this technology with reliable, consistent and scalable systems. Our award-winning products span control and automation, system-wide switching and audio/video signal distribution, as well as digital signage and technology management. They are implemented worldwide in conference rooms, homes, classrooms, network operation / command centers, hotels, entertainment venues and broadcast facilities, among others.
AMX focuses on developing targeted solutions that meet the ever-evolving technology needs of customers in 12 vertical markets.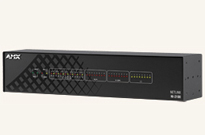 NI-3100 - NetLinx® Integrated Controller
The NI-3100 unit is ideally suited to the requirements of larger areas or multiple rooms with advanced control and automation features.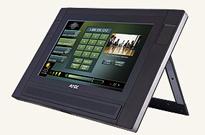 MVP-9000i - 9" Modero® ViewPoint® Touch Panel with Intercom
This is an ideal solution for extremely noisy wireless environments like MDUs and applications that require telephone/intercom functionality.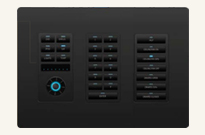 Keypads & Remotes
From controlling one component to managing 1000 devices, no job is too large or too small for AMX NetLinx Integrated Controllers, the nerve centers of every control system.
Our Clients
MZ iWORX List of Project
Sunpower Module Expansion
Miyano Factory
Yamaha Factory
TOMS Manufacturing Corp.
TSUNEISHI Heavy Indutries (CEBU) Inc.
US Embassy NOX-1
US Embassy NOX-3
Chiyoda Philippines
INA-Research Philippines, Inc.
Ibiden Philippines, Inc.
ARKRAY Manufacturing
Taguig City Hall
Medical Center Manila
Yokohama Tire Factory Philippines, Inc.
KAWASAKI Training Building
DSM Manila LLC
ENTEC BUILDING
Kawasaki motors
ISUZU
The Medical City
Southville International School and Colleges
Manresa School
Nidec Philippines
Hoya Glass Disk
AURORA HOSPITAL
DAIKOKO
Epson
Artnature
Pascual Laboratory
CONCEPCIONCARRIER INDUSTRIES CORP.
GLORY PHILS. FACTORY
Allegro MicroSystem, Inc.
NAIA Terminal 3
UE Caloocan
Meralco
Contractor Client
Kinden Philippines Corp.
Sumisetsu Philippines Inc.
Taisei Philippine Construction, Inc.
TOENEC Philippines Inc.
GN solutions inc.
Power Dimension Inc.
PHPC CO., LTD. INC.
AC Technical Services, Inc.
Shillon Global Construction, Inc.